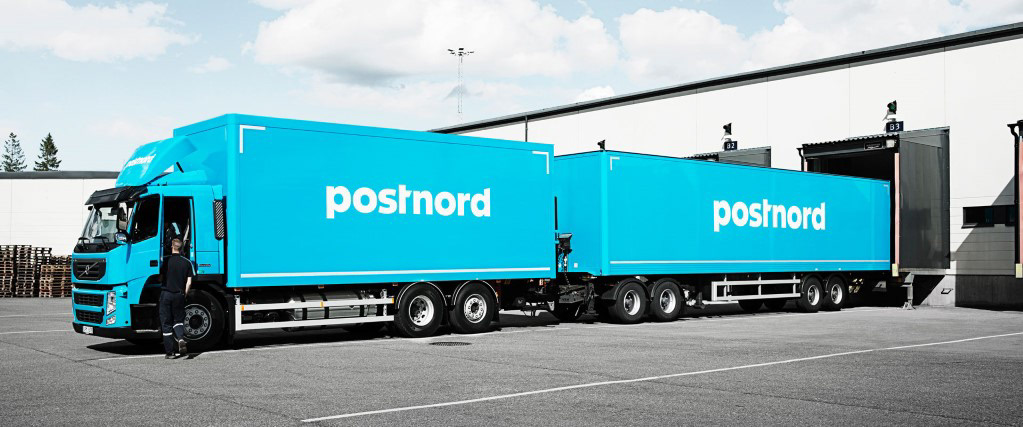 PostNord is a logistics company operating in Sweden, Norway, Finland, and Denmark which serves both businesses and private individuals. Due to the wide customer base, PostNord launched their online portal so business can manage, track and book services that PostNord offers.
I was assign to redesign Claims Business which is a feature in the portal where users can create a claim for damaged parcels, missing items, delays and other. All claims cases are then reviewed by PostNord agents which will be decided if it will be approved with compensation, or rejected which means no compensation.
The redesign is aimed to align the new brand strategy of PostNord and also to simplify the process of creating, and managing claims. This is because our users were complaining why the claims they created were rejected, and also  they are unsure what to do to have their claims approved. This leads to uncertainty on how to do it better next time and also leaves them no reasons to give to their customers why no refund can be given. It would be be better if the app can assist the user to guide them on creating and managing claims.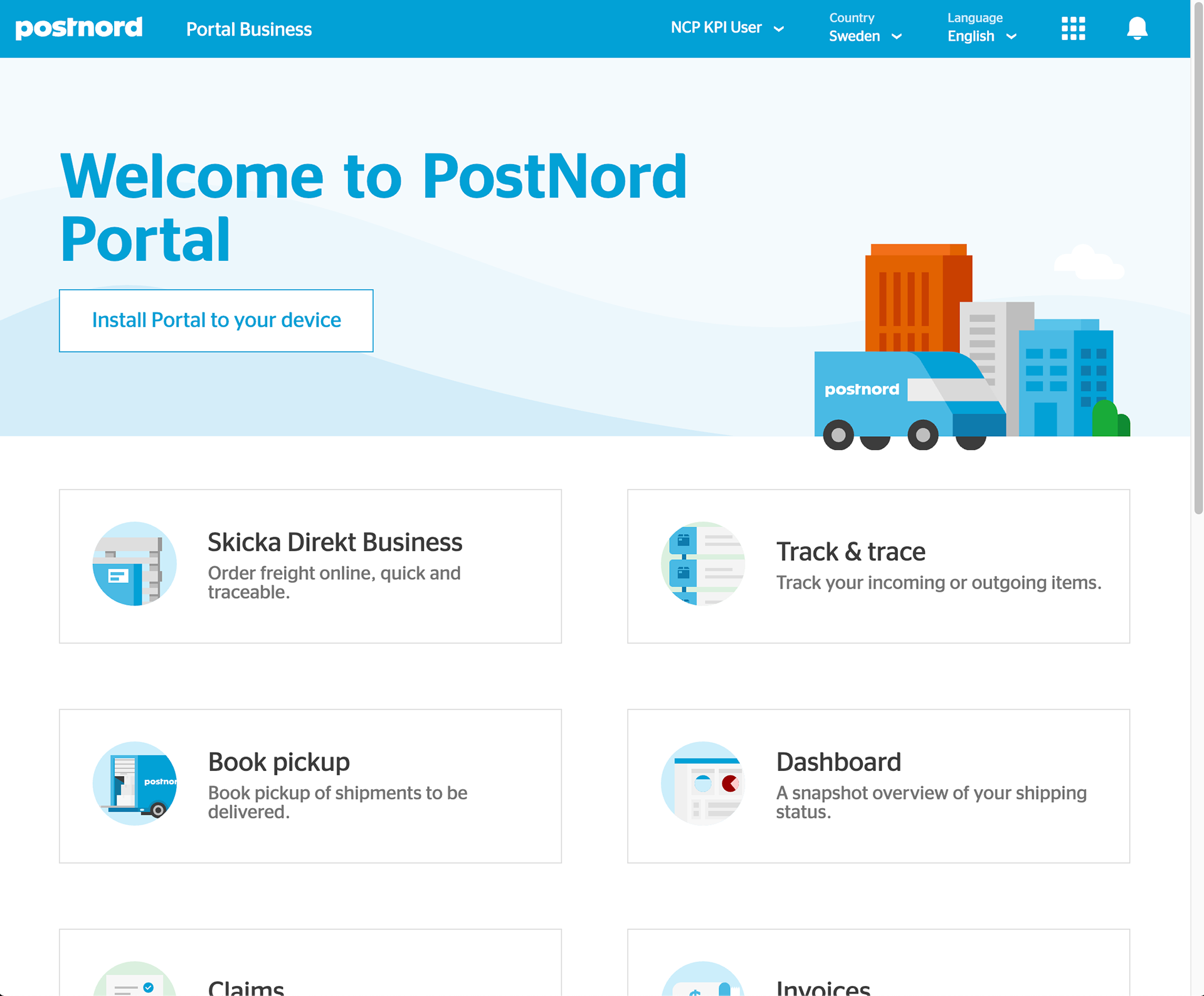 There has been some issues that needs to be addressed in the redesign but here are worth noting:
Issues on claims creation - The old claims business seems to get a lot customer complaints because their parcel claims get rejected even if they submitted a lot of proof that it was PostNord team's fault. 
Issues on claims management - managing submitted claims has been problematic to the users because they can't track claims that needed attention.
Improve the experience on
 Claims business by focusing on user's need when managing and creating claims in the Portal.
As part of a UX team, I helped out on UX Research and was responsible for the Interaction Design. I collaborated frequently with my UX team, Product Owner, Business stakeholders, and the QA tester.
The process was iterative and merges within discovery, research, design, and validation.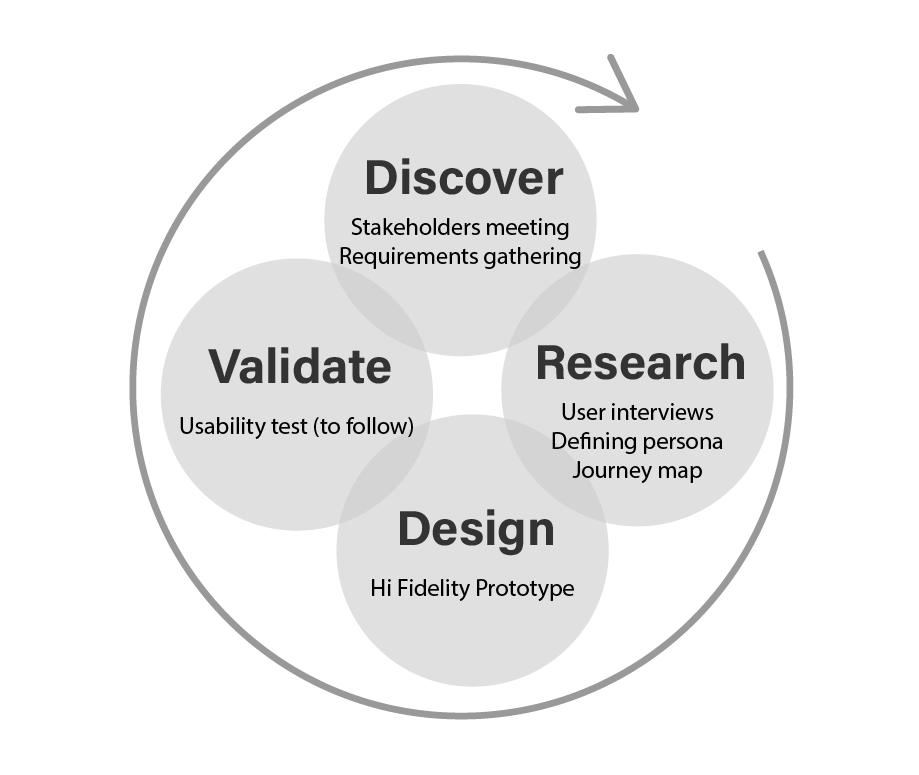 As guide, below is the flow of a user of Claims Business. The user here is a customer service agent who handles parcel claims from their customers. Let's say a customer orders in H&M, then PostNord delivers the product, once the product is delivered, for any issues of the product the customer will contact H&M customer service. If the customer service thinks that PostNord is held liable on the issue, then he/she will create a claim in Claims Business in PostNord Portal and will like request a compensation for damages.

Based on the collaboration with different stakeholders and the requirements gathered, the following problems need to be addressed by the UX team:
• The redesign should address the needs of the user but keep elements familiar for common users.
• Assist users on making a claim to increase chances of getting approved.
• Align the design of the new branding of PostNord.

Old version of the Claims Business
Below are screenshots of the old Claims Business. As you can see, there are areas that can be improved to assist users in managing claims.
Based on the problems, the following Research Questions were formulated:


• How to improve and simplify claims creation?




• How to assist users in managing claims, especially for follow-ups?




• How to aide users when their claim is rejected

?
In order to answer the research questions, the following UX research methods were conducted: 
• Gather customer service calls related to Claims Business
• Interview users and gather insights
• Persona creation
• Usability testing (future)
I talked to customer service to ask about calls from our customers and I found some that needs to be address in the new design. One of which is that their claims compensation gets rejected because they don't know what document or photo they have uploaded already which makes them to upload any document when the agent assigned to review asks for more proof. 
This method showed that the users are, most of the time, handling different tasks at a time which requires less time to focus on one and their goals as customer service agents.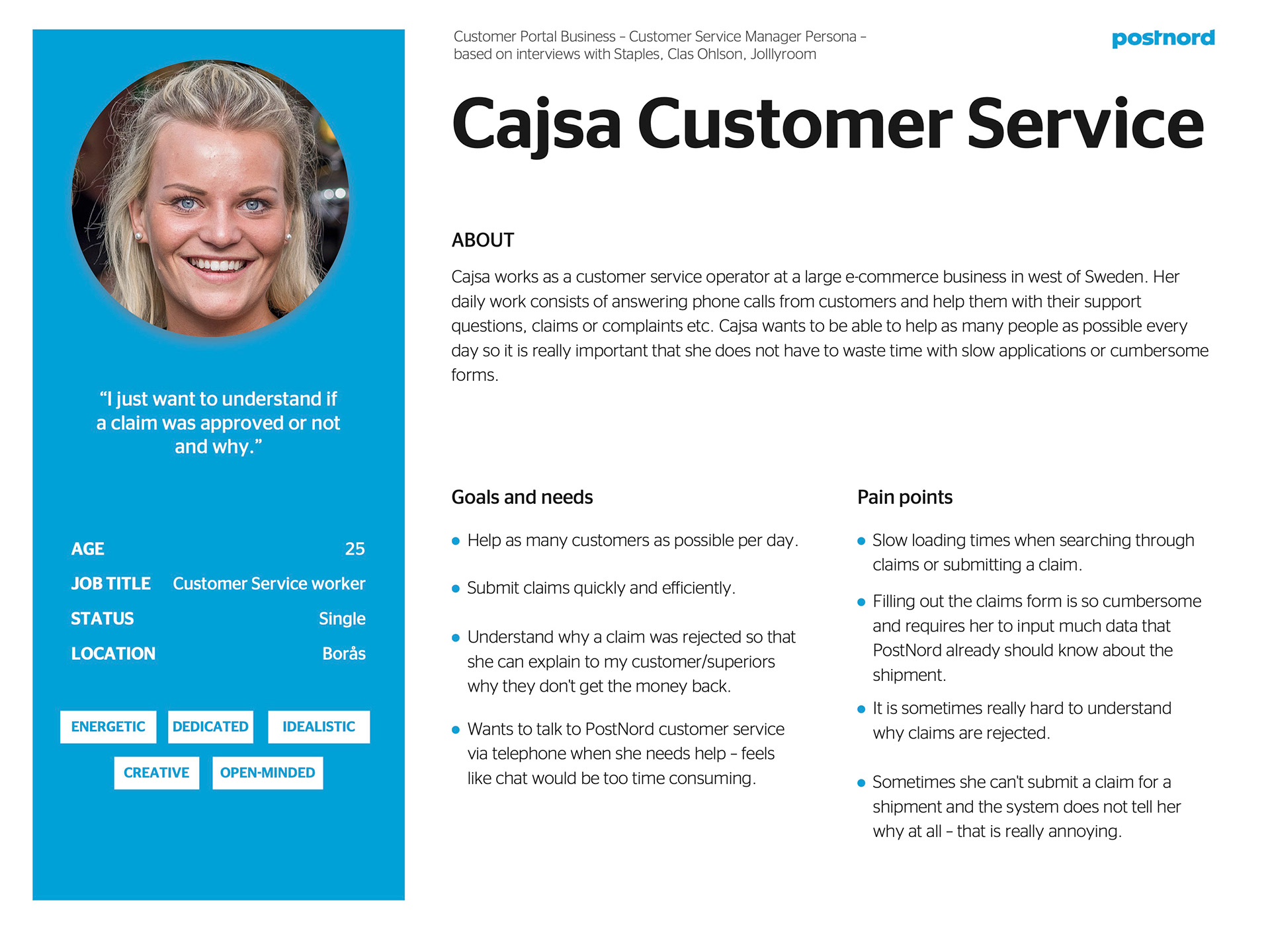 This method showed the user wanted to please their customers and, as much as possible, with a good news on approved compensation. If compensation is not possible, in the case of rejected claims, a reason for getting rejected would suffice so the user can explain to their customer the reason why a refund is not possible.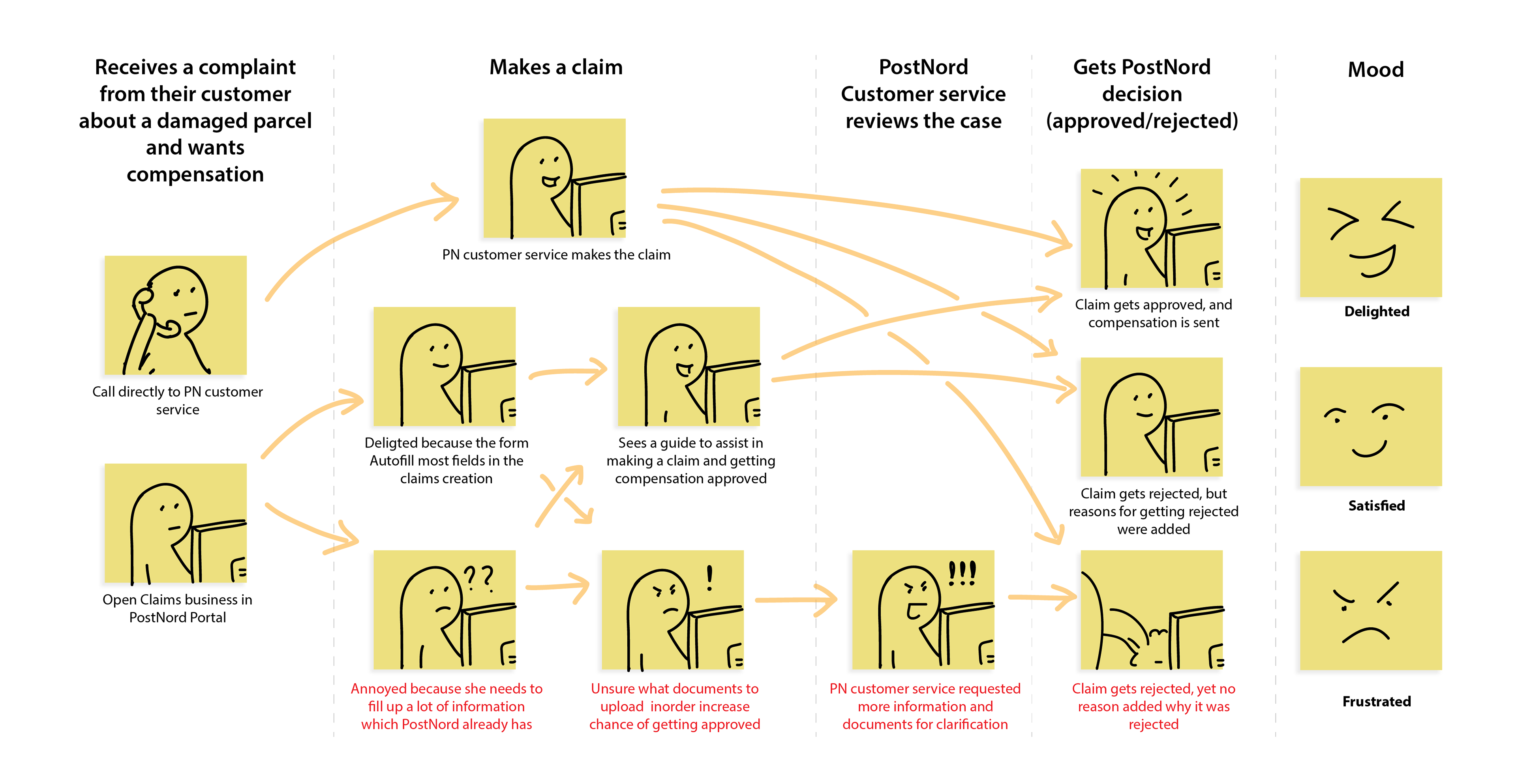 • How to improve and simplify claims creation?


In order to assist the user on making a claim, it is imperative to be able to auto-fill as much data as possible and define clearly what they needed to do in order to increase chances of getting approved since all details in claims creation is not editable after being submitted already.
• How to assist users in managing claims, especially for follow-ups?
Users seems not to get notifications when PostNord customer service is asking for more information, this leads to updates getting ignored and claims rejected.
•

 How to aide users when their claim is rejected

?

?


When a claim is rejected, all they wanted to know is the reason why it is rejected so they can explain their customers and also that they know how to respond on it next time they face the same case.
The following design solutions were proposed based on the insights gathere​​​​d.
Providing notifications can alert users when PostNord Customer Service (PN-CS) requests for more info or questions are raised.
Simplify the required field and auto-fill what can be added to help reduce the info required.
Clean up the claims list, remove unnecessary details and make the interaction noticeable.
One reason that claims were rejected is because users can't see what the uploaded attachments are. This leads users to upload files blindly because they can't recall what was uploaded nor track who uploaded the files. 
Getting their claims rejected maybe disappointing to the users but knowing the reason why will help them explain to their customers better. That is a lot satisfying than having with no idea what to tell to their customers.
After so many iterations and discussions with business stakeholders, developers and UX team, the new Claims Business have been approved. The design addressed all questions and problems that were stated above.
Here are some break down of the screens that I designed to satisfy the different requirements in business rules and user needs that were specified.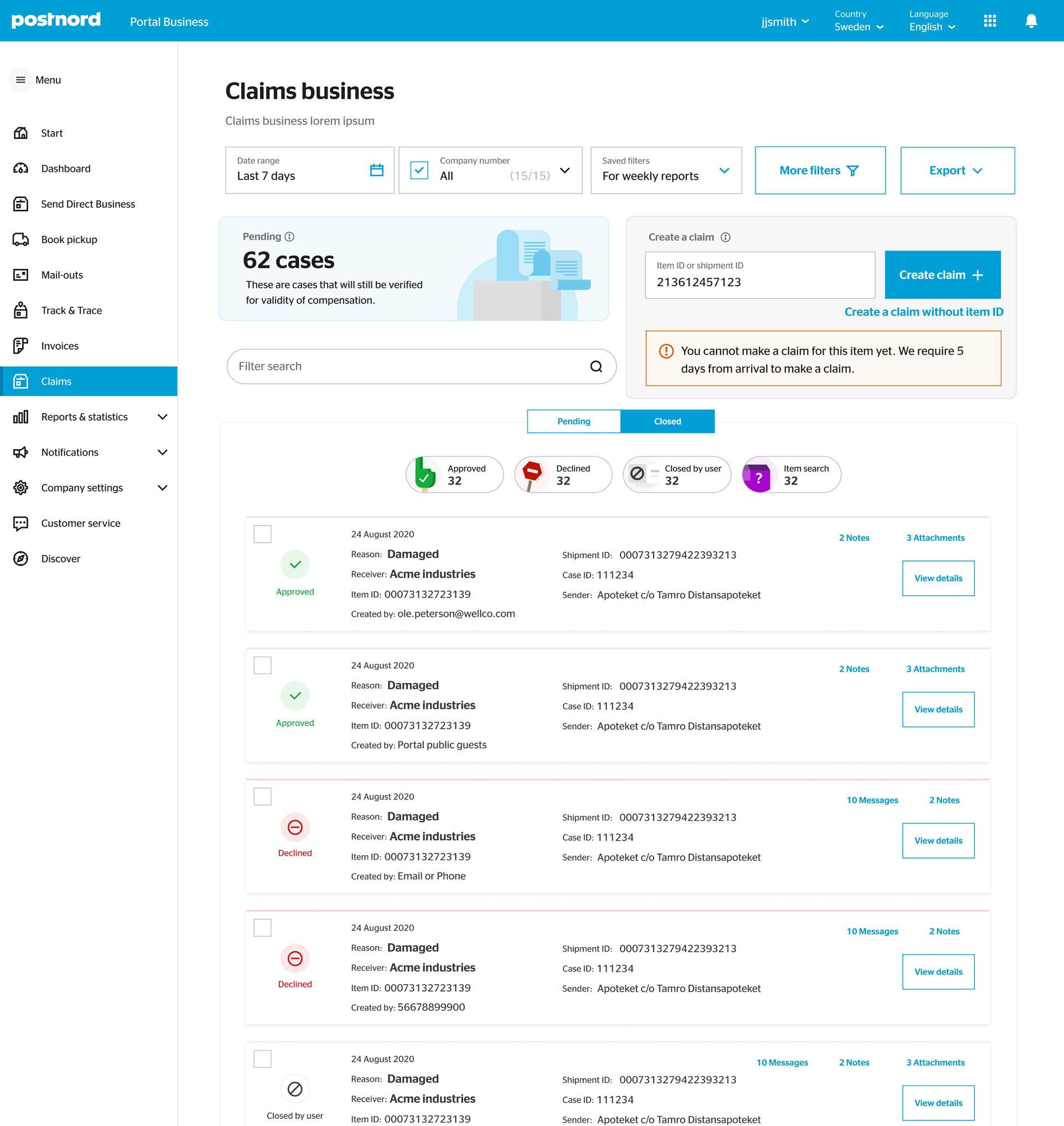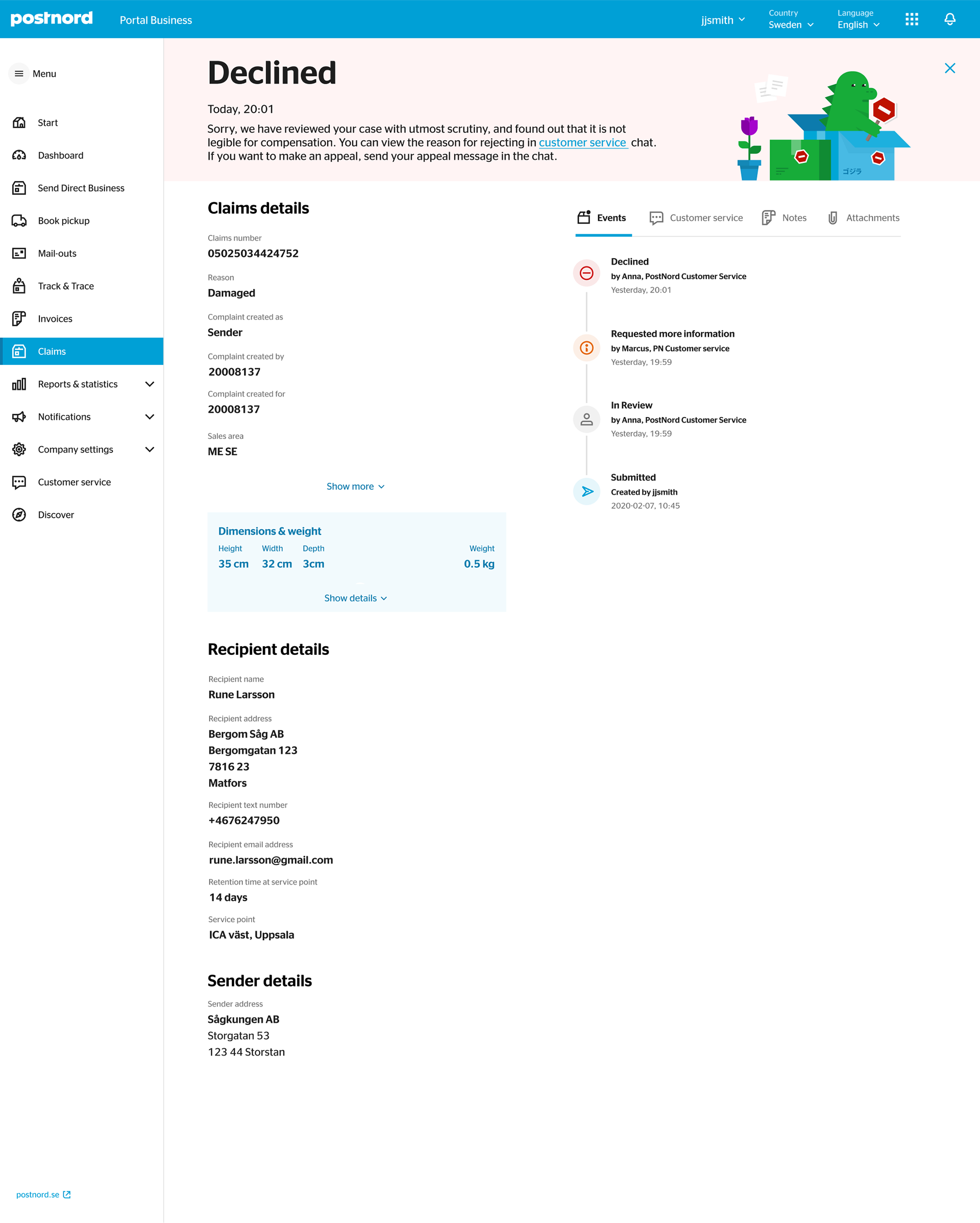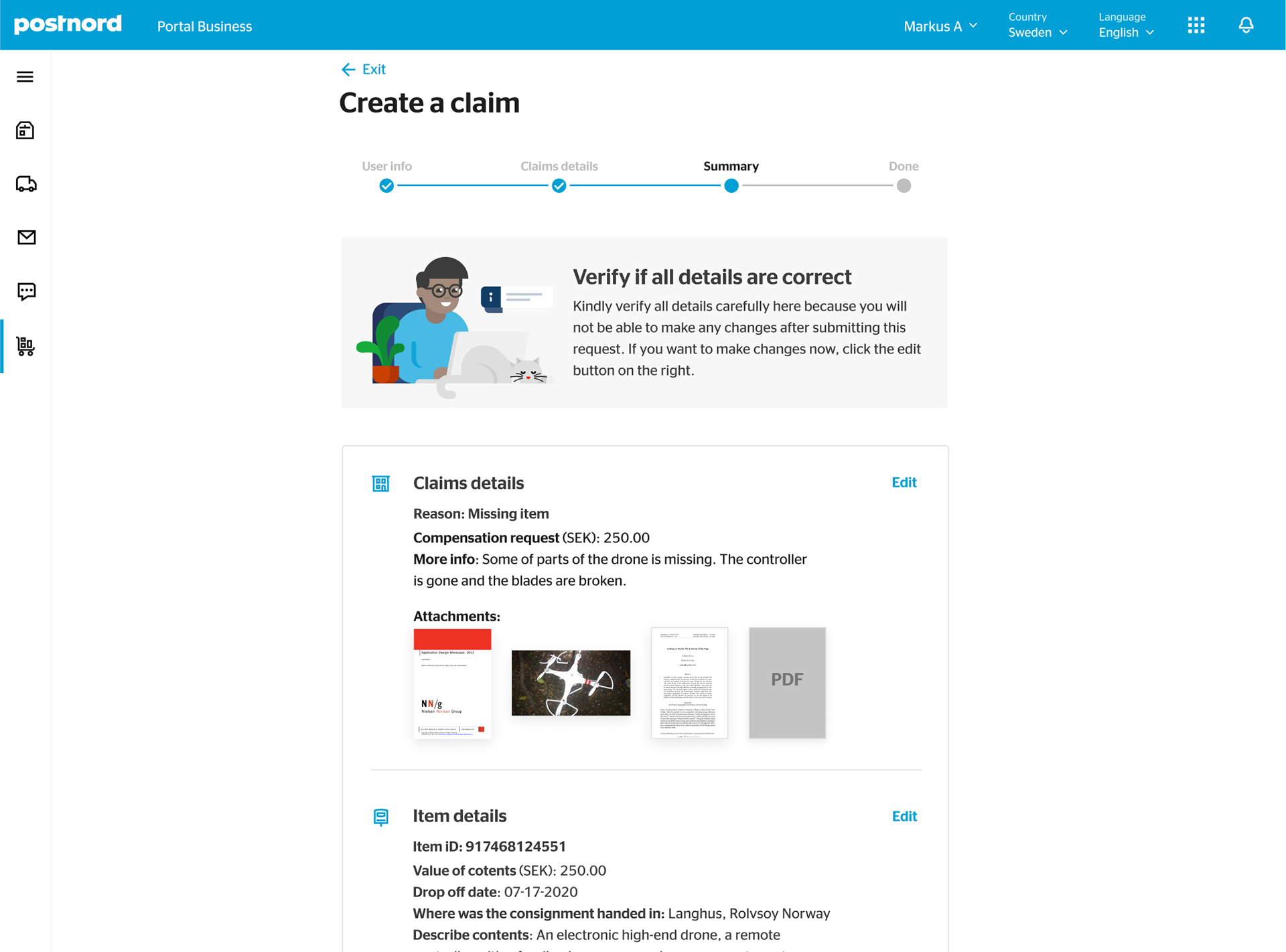 The Claims Business v2 will be tested through usability testing in upcoming months due to limitation of participants.
I may not be able to show outcomes since we have not done a usability test yet which will verify how the design solution fits in the issues that plagues our users. 
Immersing myself to the user's perspective made me understand what were important to take note and be able to shape the design around users' paint points. 
Being in an agile environment means that the process should be calculated to have optimal results, it is prudent to do documentation on the side to help with decision-making the future.
Being able to present my ideas and show the value of design is really a game changer and makes it a lot efficient on navigating through arguments, and turning that into productive results.
Trusting your gut is the quickest way to move forward in the design process but it is also prudent to be objective and not be swayed by biases.
It is imperative to adapt the design process according to the needs of the project and the time required to finish. I was able to adjust the design process according to what is required in each phase. 
Booking a meeting with stakeholders proves to be hard to come-by since they are mostly busy, so we set a weekly meeting with them to talk and demo the design. It became a good avenue to discuss rules that applies in Norway, Denmark, Sweden and Finland
What would you do differently?
When gathering requirements, there are times when the person in-charge of the tech may not have the ready information you need and sometimes you get pushback later which was not informed beforehand. This became a huge friction during the process because it caused me to go back and forth on the design because some end-points are not available.